SwingLab is a privately held California Corporation founded in 1997 to commercialize its patented Form Matching technology. Form Matching is a revolutionary motion training technique with a wide range of applications in sports, medicine and industry.

Form Matching has recently received an enormous amount of attention from professional athletes, coaches, performance experts, physical therapists and exercise physiologists because it has proven to be a highly effective way to improve mechanics. It has been successfully used in a wide range of motion training activities including hitting and pitching mechanics in baseball and posture and balance training in physical therapy.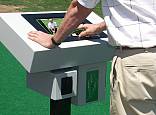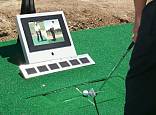 In 2001, the Company began the regional launch of its first product, the SwingLab automated golf training system. National launch will begin in early 2002.

SwingLab intends to produce, own and operate a worldwide network of integrated sports training systems. The Company's initial commercial product is designed to help golfers learn in an easy, fun, systematic way. Unlike other video systems, SwingLab's video is in real-time, allowing a golfer to actually see his swing as he is swinging. Moreover, instructors have a perfect tool to help communicate to students visually. And lessons are saved to that students can practice on their own..




Home | About SwingLab | Company Profile | Instruction
Pro Outlines | News | Customers | Contact

Website designed by HYPERSHERE.
©1999-2005 SwingLab, Inc.